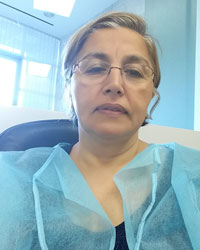 Roya Toomarian
DDS
When selecting the right dentist for your and your family's needs, you want to find the best one, who brings education and experience to the table. In Irvine, CA, that dentist is Dr. Roya Toomarian. Dr. Toomarian certainly brings experience to her practice. She has 35 years of experience both in the US and abroad. Her practice has made its home in Irvine since 2000. In that time, she, and her dedicated team of dental professionals, have focused on providing high quality care with an emphasis on customer service. In an effort to provide superior customer service, Dr. Toomarian works hard to be a provider to many of the major insurance companies, PPO, and private insurance companies.
In her free time, Dr. Toomarian finds a great deal of pleasure in science independent study endeavors, as well as working towards, and surpassing, the required continuing education courses essential for a dentist in California. These studies give Dr. Toomarian the information and expertise needed to provide her patients with up to date services and procedures. She also enjoys spending time with her family, taking walks, and staying current with the latest movies.
Contact Dr. Toomarian's office for more information about available services.
Irvine Cosmetic Dentist | Roya Toomarian